The Infinite Marketing Vacum: The Sales Funnel
The faster they make it through, the quicker the process will repeat.
If you are starting an online business or have just created an online space for your already existing business you might know a little about digital marketing. Have you ever wanted to see the process your customers go through before making a purchase up close? This article will discuss the marketing tool that is needed to increase conversion rate and visibility.
The sales funnel is a representation of the process prospective buyers will go through before becoming customers. Much like a funnel for baking, a sales funnel guides potential customers, and over a preferably short time, they will become buyers and then repeat the cycle through re-engagement and referrals. There are different parts and actors at play in each level of a sales funnel.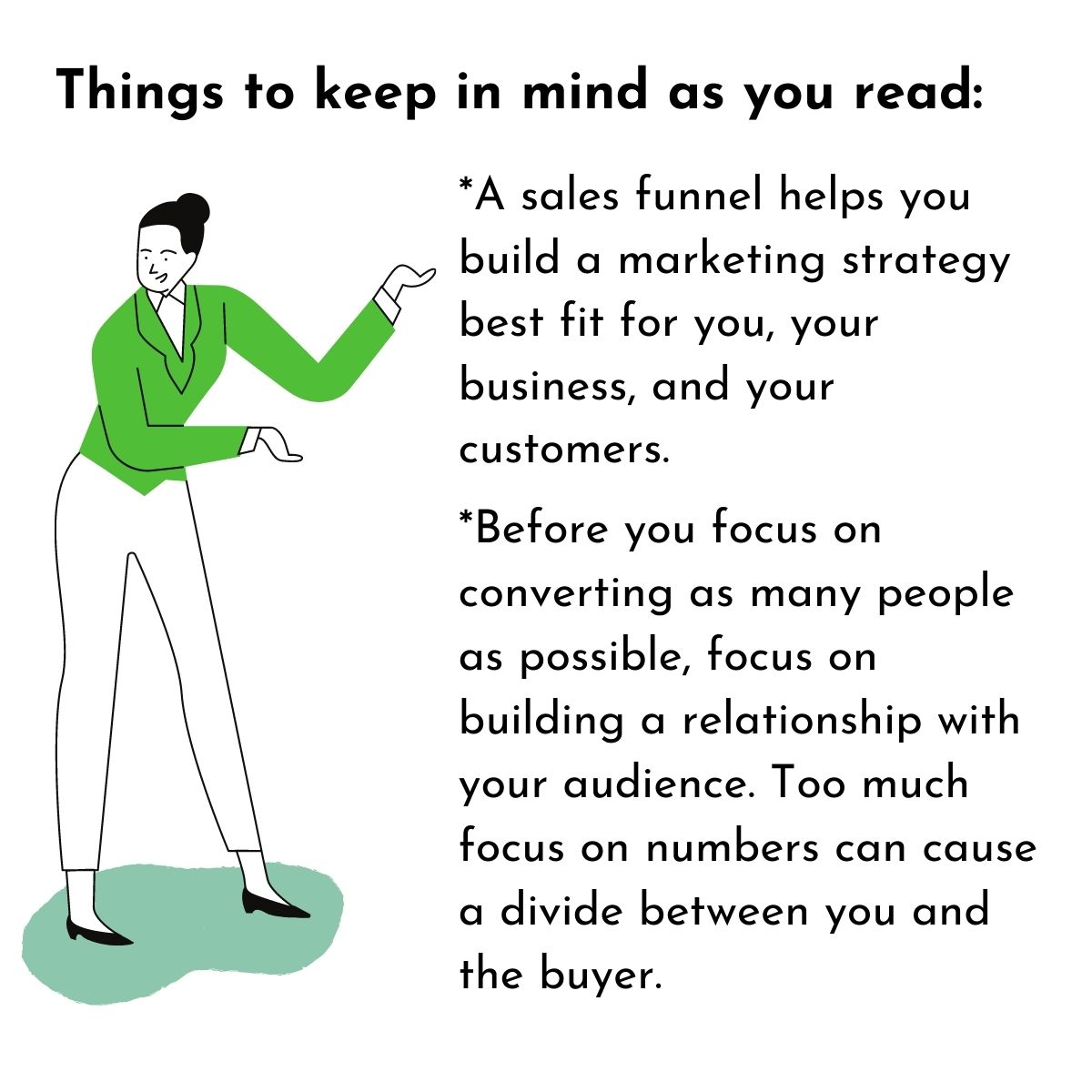 The Different Layers of a Sales Funnel: 
Awareness, Interest, Desire, Action, … And Sometimes More in Between The Lines 
There are four basic levels to a sales funnel and those are awareness, interest, desire, and action. More in–depth funnels might look like awareness, interest, consideration, intent, desire, action, and then loyalty. Every level represents a thought process that the subject goes through. For example, the desire would be that they have decided they want to purchase your product/service, the action would be the purchase, and the loyalty would be them sharing and continuing to purchase from you. I will be going into more detail on the different layers in a moment.  
I referred to the sales funnel as a marketing vacuum because when a successful strategy has been created the funnel should pull people in and not let them fall back out. This also means that people who are sucked into this funnel might bring friends along with them. Sometimes after someone has purchased something they are satisfied with, they will show it to friends to share their positive experience.  
Awareness:
You can't sell your product/service to someone if they don't know you are there. There are several ways to bring awareness to your business; blog articles, paid advertisements, and social media are three of many great ways to build awareness for your business. The customer journey will often start with someone seeking a remedy for a problem they are facing. They research their problems or 'pain points' to find a solution. 
Let's play pretend for a minute. I don't mean get dressed up in an itchy costume and too small dress–shoes. What I mean is let me walk you through the first section of the sales funnel, becoming aware.  
A young woman just moved to the beach in Los Angeles, California. After taking her first morning run she discovers she likes running down the beach but she keeps getting sand in her shoes. Of course, this is uncomfortable so she immediately looks for a solution to her issue. Lo and behold, you sell special running shoes equipped for sand. She gets on her phone and looks up ways to prevent sand from getting in her shoes. A nifty blog article promoting your business pops up first and the scrolling begins. This stage is awareness. Here is where you put your money into good SEO, copywriting, and graphic design so that your content will bring the most attention.  
Interest:
The customer likes your product but the interest isn't there yet. Fancy catchphrases and shiny call-to-action buttons can't do this alone. She continues reading this blog and starts learning about how the shoe works. Now she knows how the shoes prevent sand from getting in them while also allowing them to be breathable and sporty. A lifestyle image of a famous volleyball player is right in the middle of the article, expressing the affinity that people have for the shoes.  
After seeing someone who obviously prioritizes the quality of their athletic gear enjoying the product, she has been captured. She is now interested in the shoes and has decided to bookmark the article to revisit later. She also joins your mailing list to get a coupon code, as she may decide to buy the shoes later. 
De
sire
:
 A major part of the functionality of a sales funnel is highlighting and zooming in on the customer journey. That also means looking at how your marketing influences the person interested in the product/service. I am going to take a different approach here to show what a sales funnel looks like for services and how it doesn't vary by much from the sales funnel aimed at retail. Let's say your sports equipment company also offers fitness plans.
Through your email campaigns, the runner finds that a fitness program she had checked into recently now has a free virtual class with a personalized diet program to boot. Even though she has to pay for her results, this news has piqued her interest so much that she decides to take the online test to see what her limits are and what food she should be eating. Eager to find her results she makes it to the end of the quiz and it brings her to a group of three call-to-action buttons. The first one, for just $5.99, lets her see the type of diet she should be on rather than a detailed meal plan. The second, for $7.99, shows her a roughly outlined meal plan and lets her see her recommended workout plan. The third, topping in at $16.99 a month, lets her get daily personalized meal plans and weekly workout schedules to follow as she improves. Each one of these offers has an attractive amount of benefits for a seemingly reasonable cost.
Now that she has gone through the stress of taking that lengthy test she is convinced she at least needs to see as many results as possible without risking it all in the first click.  She opts for plan two.
Action:
Even though purchasing the second offer counts as a conversion, it isn't where you want her to stop on the customer journey. You want her to join your online group and support your brand since that means she will spread the word about her positive experience. This will drive more people into your sales funnel.  
As she has gotten used to the recommended workout plan the runner realizes it isn't doing much more than maintaining her usual fit figure. The diet she started to follow has now become boring and she doesn't have a lot of patience. Just in the nick of time, she receives an email letting her know the highest tier plan is now on sale! She clicks the link to check it out. 
Since it is National Women's Month there is a new discount offer that will take a whole 25% off of her first month. After doing the math that will come out as $12.74 for her first month. She purchases the plan with the offered discount. An ad at checkout lets her know that the shoes she was looking at are now on sale as well.  
Loyalty and Repeat:
Brand loyalty seems like one of the less valuable aspects of starting a business. It happens to be the most important factor in becoming successful. With such a competitive market that just continues to get more competitive every day, brand loyalty seems to be one of several things big businesses cling to.  
To give an example,  Gap and American Eagle are both advertised as classic and modern clothing brands. Both of them have also built concrete foundations that are equally as strong when it comes to their brand loyalty. This is how they have grown to be household names as well as major competitors in the market for affordable and nice clothing.   
To build brand loyalty after a prospective buyer has become a customer you will have to build a foundation of your own. With some big brands, it may also seem like they use "less marketing' when they just invest in more subtle yet just as effective forms of marketing to build loyalty. When a brand builds enough "fans" they will often begin to invest more in loyalty programs and influencer marketing, although they still maintain paid advertisements and email marketing. You can write blog articles, direct buyers to your social media, and use email marketing to build that same kind of loyalty with your customers. People who have purchased from a business like seeing their favorite brands engaging with them.
Professionals:
Sales funnels are a delicate art form. It takes expertise in many areas to build a funnel that brings in the correct target audience and holds their attention. You will need a Marketing Strategist to help you plan the correct strategy for your business and audience. Once you have outlined a strategy you will need skilled experts to write copy for your emails and landing pages. You will also need graphic designers and even web designers on your team to optimize the user experience. Experts in paid advertising can also be of assistance in reaching your target audience. With the help of a great team, your business can have a foolproof sales funnel that will continue to pull in new customers while building brand affinity with your existing customers.