Email Marketing is Thriving More Than Ever 
Here is How You Can Take Advantage of it 
In the new world of remote business where we have things like social media marketing and paid advertisement, email marketing starts to sound like it is no longer useful. The fact is, email marketing is more successful and has a higher conversion rate than popular forms of marketing like social media and paid advertisement.  
Email marketing has one of the highest returns on investment. With every $1 spent you are likely to receive up to $45 in return as a result of good email marketing. There are so many different strategies, types, and levels of email marketing that make it successful and fun to work with. Email Automation is one of the best parts of email marketing, at least I think so. That is just one of many aspects of email marketing that I will be covering in this blog and I just know you are going to enjoy what will come to you from this!  
Strategy
Fact: Email Marketing strategies can be created no matter which platform you are using for your website, store, or social media. 
Lead Generation Forms (pop-ups including free content, coupons, etc.) 
Lead generation is much like getting a lead to a potential suspect in a crime except that lead generation in marketing is generating leads for potential customers. This will take the form of timed or triggered popups offering free content, discount codes, and sometimes coupons. In some popups, you will notice a call-to-action button requesting you sign up for a service or create an account to receive more of what the pop–up is offering.
Lead–generation is a cool form of marketing that allows you to subtly pull in contact information for a potential customer, and even extra information to better evaluate the customer's interests. It is especially good for email marketing because most potential customers will take the free content or discount when offered, providing you with their email address. 
A good example of lead-gen would be a pop-up that says, "Get 50% off a pair of our tri-colored work-out leggings" and contains a field asking visitors to enter their email address above a call to action button that says "sign up to receive regular discounts for the products you love." Sometimes these popups are triggered by actions such as viewing a particular item, or they are timed based on how long the person visits the site. Almost always there will be a call to action button that will offer the person an incentive in return for signing up or entering their contact information (email address is always part of this, as it allows you to reach out to the customer again later). 
Subscription
Forms:
News Letter and/or Blog
Keeping a blog as a business owner helps create brand affinity. Potential customers will come to you through your blogs or you can re–engage customers by inviting them to follow your blogs. Depending on what you're selling the content in your blogs will differ. If you own a pet supply store you would want your blogs to follow the theme of pet care and trending products for dogs and cats. A life coach would write a blog about how to relieve stress, meditation tips, pretty much anything that fits with their branding. When someone subscribes to your blog it usually means they like your content and products. For someone to subscribe to a blog their email address will be requested. This is how blogs work with email marketing. Now, whenever a new blog is published to your site you can have emails automatically sent to your list of subscribers. These emails should contain links to other areas of your website, as well as remarketing assets like displaying a sale or new product. 
A newsletter can be a useful tool for gathering customers email addresses as well. If you have a business that has events or often gets new products you can send out periodic updates in a newsletter email. These are done weekly, bi-weekly, or even once a month. There are a lot of guidelines you will want to adhere to when composing these emails, but the most important part is to always provide value. Do not send weekly newsletters if there is nothing new to include. You want your customers to look forward to your emails because they provide them with valuable updates on upcoming events or new products and sales. It is also a good idea to include 'subscriber only' deals, like exclusive coupon codes only available in the newsletter. Newsletter sign–ups can be pop-up forms or embedded forms that are in a particular place on your website, such as the footer. It is also possible to offer the ability to subscribe to your newsletter during checkout.  
When someone signs up for a discount or a membership of some kind, they will also receive what are called membership flows. The first flow will be immediate, and this is the welcome email that comes with almost all email automation. Other flows will usually be about items they have viewed or follow–up emails that may include limited–time offers for coupons and discounts. These offers and discounts can also draw more attention by being 'subscriber only' or 'members only'. This means those discounts and offers are exclusive to those that subscribe to your lists.  
Membership flows are automated emails that aren't news updates. In other words, they are "non-news" flows. Membership flows target the customer/potential customer directly to try to better pull in their attention. Unlike Lead-Generation pop-ups or some re–engagement tactics, membership flows are much more likely to grab attention since they are directly reaching out to the customer rather than appearing in the form of an add or product promotion.  
Customer re

–

engagement

:

 
Abandoned cart, abandoned browse, upsell flow (emails of related products/services to past-purchases), Ratings/Review requests, Deals and Discount flows.  
Seeing your conversion rate rise is always satisfying to both you and your team of experts. That means people are enjoying your products/services and the expert's work has paid off. What can be disappointing is when that doesn't persist. This is where customer re-engagement comes in handy. There are several different parts of customer re-engagement and I am going to focus on the ones that rely on email automation. 
If you are re-engaging a customer, it means they have purchased a product, or your services and you are trying to encourage them to repeat that action. Return customers are likely to occasionally leave a product in their cart. This can be because they had something they wanted to save, or they are hoping to receive a discount on a product they liked. If someone has purchased from your store it also means you should have their email in your system. Abandoned Cart emails are quite common in online retail. People use this tactic to bring people back to their site where they can draw more attention with more fancy pop-ups and great deals on products related to past purchased items. These emails will typically show the item left in the cart, may offer a discount, and can also promote related products.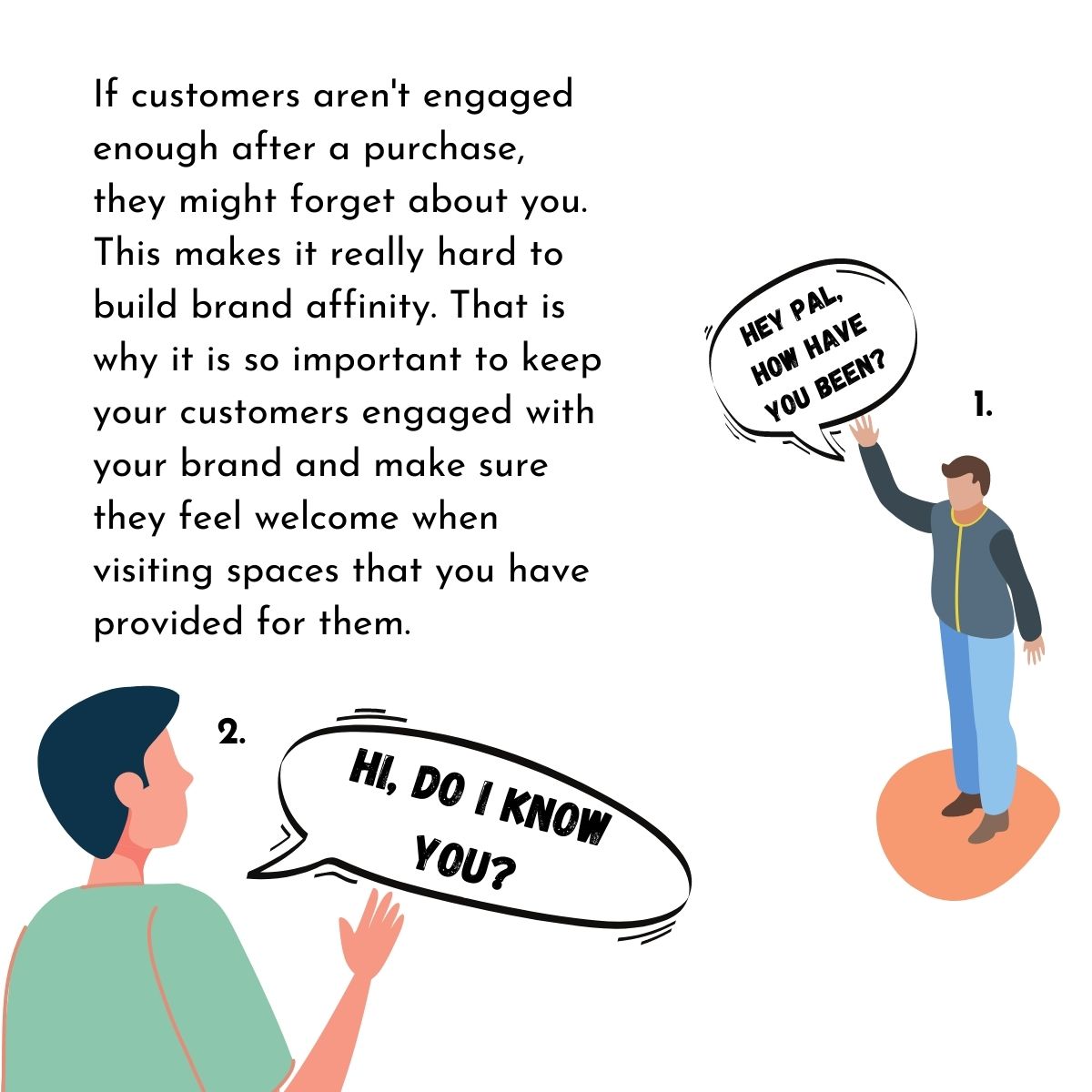 Speaking of items people have purchased recently, have you tried offering accessories? Another way people reengage customers is by taking things people have purchased in the past and offering things that might go with it. This is called an upsell flow "Purchased a new cup holder? How about a pack of 02 pencils to go with that?"  "Did you just get a new LED desk lamp? You might be interested in …" I am sure you get the gist. Now obviously it won't be as direct as that. It is more likely to say, "based on items you have recently viewed or purchased we have found several things that you might be interested in."  
This also works with non-retail. If you are selling a basic package of your services and someone has purchased it then they will receive a promotional flow. This might sound like "don't stop at the basics, we feel like premium suits you more" or sometimes this "don't miss out on all the great opportunities that our prime packages offer, whenever you get bored with the basics your free trial will be waiting for you." It is still the same as selling something in relation to a past purchased item. They will both follow the same flow of "this will make whatever you just purchased way better." Upsell flows work great for course providers as well. If someone has taken an intro level course or workshop, you can send upsell flows promoting the next level. 
When someone orders from an online store it is common for the retailer to request a rating or ask them to write a review regarding their experience. This will happen both on the website and in email. When someone writes a good review about a product, other visitors will see that review and be encouraged to purchase the product. The same goes for services as well. Just like in freelancing where you have a rating system based on skill, efficiency, and professionalism, with services like life coaching or workout programs they will request you describe your experience and rate how useful/helpful it was. The way this works with email marketing is an email is sent reminding the customer what they purchased from you and allows them to reflect on their experience. This re–engages them so that their positive experience can encourage them to want to experience that again. When they write that review it can stimulate them to purchase again as well as helping you market your products/services.  
No one likes a non-responsive seller when it comes to a bad experience. Sometimes a bad review can allow you to flex your ability to provide for the consumer. A bad review can bring attention to issues with your product/service that wouldn't have been noticed otherwise. The importance is that you pay attention to those reviews whether they are good or bad. Always engage negative reviews promptly and do your best to work with the customer to resolve the issue. It is worth noting here that when requesting reviews on your own website you will be free to choose which reviews are visible, on some ecommerce platforms that is not the case.  
Email Automation Platforms

 
Before choosing an email marketing platform you will want to consider which platforms will work best with your website. Integration is the term used for how your email marketing platform connects to and communicates with your website and other services such as your social media or even your payment processing services. There are many great email marketing platforms, some integrate better with particular platforms than others. For example, if you are building a WordPress website, MailChimp is one of the email marketing platforms that offers the most thorough integration. I will quickly highlight three of the most popular platforms here, but you should do your own research to make an informed decision based on all of your needs.  
As mentioned above, MailChimp is a great choice. It can be very budget friendly for small audiences, offers many integrations and has a continually expanding list of capabilities. You can design attractive emails customized and branded for your business and audience. Tracking is available for many website platforms and integrations are available for social media as well.  
Klaviyo is another wonderful option, particularly if you have a larger audience and want more dynamic analytics/ data on your emails and customers. Klaviyo offers all the design functions, many integrations for platforms and social media, among other things (like payment processing platforms and CRM systems). Klaviyo has also recently introduced SMS marketing so you can give your customers the option of receiving texts instead of (or in addition to) emails. 
Lastly, Active Campaign is a wonderful platform with all the above capabilities (except the SMS messaging) and the additional feature of a CRM. Active Campaign's Deals system allows your team to track leads, sales, and meetings with prospective clients/customers. This can be very useful if you have a sales team that reaches out to leads and the need for managing these leads and existing customers.  
All of the above platforms offer customizable lead generation forms, email automation capabilities and multiple lists and segmentation functions. They work well with most major website platforms and payment processors. You will want to brainstorm the best way to make use of email marketing for your business and make a list of the platforms you use and the functions you need in an email provider. Then visit the above platforms as well as other email marketing platforms to see which ones are the best fit for your company and budget. 
It's outdated 
A lot of people make the mistake of calling email outdated. Since people don't often use email to communicate outside of school and work it is hard to imagine that it is something people pay attention to when you are first introduced to it as a form of marketing. When you are signing up for anything, they will request an email address. This isn't just for the creation of the account or the subscription. This is also so that they can send you emails to attract you as a customer. It will start with a welcoming letter and then you will begin to receive abandoned cart emails, discounts for past viewed items, and items related to your purchase history. Email marketing is thriving more today than it was when it first arrived.  
Subscribers Will Get Annoyed 
If emails are repetitive or lacking content, then subscribers will most likely get annoyed. You wouldn't want to subscribe to a newsletter only to get an email that says, "we don't have content for you this week but we are dedicated to our service so we just sent an email anyway." Even though it is good to know when someone is dedicated to their services it can get quite annoying when this happens more than once. Automation is more than just sending an email that someone left an item in their cart. You can also use a form of email automation called "smart automation" that makes sure emails aren't repetitive and invasive. 
Other email features can help you pull in more brand affinity to prevent annoyance. Most people won't subscribe to a newsletter unless they are familiar with your brand so it is likely you will have to rely on lead-generation before a website visitor turns into a regular customer. Some people will also use re–engagement in this process as well. For example, you might have a pop-up set to appear after a certain amount of time that someone has been viewing your site. This pop-up will usually be for a discount or sometimes a "join our site" type thing that is intended to draw a customer in. That is a lead generation. Much like a lead in a crime that is bringing you closer to a subject, lead–generation is generating leads to customers by reeling them in with discount codes and sign–up incentives to obtain their contact information. 
It is Expensive Without Profit  
There is nothing to hide about the expense of marketing a business, it is expensive and time-consuming, but it is also very worth it. However, with email marketing, many who aren't familiar with its processes underestimate its abilities of persuasion. Email marketing has a very high conversion rate. With every $1 you invest, you are likely to gain $45 in return.  With good re–engagement tactics and a decent lead-generation strategy, email marketing can do so much more for you than more well-known forms of marketing like social media marketing and paid advertisement. When someone receives an email or gets hit with a pop-up from one of their favorite brands alerting them of a discount it is difficult to pass up. Customers are more likely to follow through with purchasing when receiving a discount email from a company they are familiar with, than an ad for an unfamiliar company on Facebook or Instagram.  
Who can lend a helping hand? 
There are many technicalities involved in Email Marketing. There are experts out there for each platform that can help you get the right flows and automation set up. In addition, a Marketing Strategist can advise you on the best methods for your specific industry and business. In order to avoid having your emails marked as spam, and deprecating your whole account, you will want to follow Best Practices. A good copywriter can help compose high-converting emails that follow the rules to avoid spam filters. You also want to make sure your emails are visually appealing. Having a graphic designer on your team is helpful for producing amazing eye-candy emails that draw customers in with your branding and great photos and graphics. With the right team of qualified professionals, you can boost your ROI quickly with email campaigns.
What to remember from this article:
1.  Email Marketing remains one of the best marketing strategies that most business owners have ever known. There are so many different parts of email marketing, I definitely encourage you to learn more.  
2.  This form of marketing allows you to more directly target your customers. With email marketing, you can draw in customers and keep them engaged much easier. 
3.  Don't think for a second that email marketing is outdated. Email marketing is better than ever and becomes more rewarding as you fine-tune your strategies.

4. Like any marketing tactic, Email Marketing can benefit greatly from professional input. Marketing strategists, copywriters, and graphic designers can help make your Email Campaigns top-notch!